You can now follow us on Twitter at Twitter.com/lc_gc and LinkedIn

In what direction do you see HPLC column technology going in the next five years?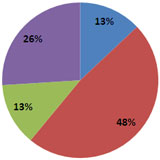 Smaller-diameter particle development
13%
More unique stationary phases
48%
Improvements in design/better integration into the hardware
13%
A consolidation of recent column developments
26%
Contact Us
Click here to contact Kate Mosford, managing editor.
Click here to contact Mike Tessalone, group publisher.
Click here to contact Lindsay Jones, sales manager.
Click here to contact Liz Mclean, sales executive.
Click here to subscribe to The Column, LCGC Europe's and LCGC North America's digital publication.
19 September 2013
In this Issue
The LCGC Blog: Considering Mobile Phase Composition for LC–MS
Coupling high performance liquid chromatography (HPLC) to mass spectrometry (MS) can mean the challenge of segregating the ionized, typically nonvolatile analytes from a large amount of solvent, and the mobile phase is an important component in the process. LCGC Blog editor Kevin Schug discusses factors to consider when choosing a mobile phase for LC–MS. More...
Agilent Technologies

Succeed from Sample Prep to Separation
Agilent offers a complete portfolio of Fast LC columns—conventional HPLC or UHPLC and biocolumns in reversed phase, size exclusion, ion exchange and affinity—plus the sample prep chemistries you need to perfect your analysis. Bring your separations together with Agilent LC tools and resources at.
www.agilent.com/chem/navigator.
Christie Hunt Wins HUPO 2013 Science and Technology Award
Christie Hunt, Director of Proteomics Applications at AB Sciex (Massachusetts, USA), has won the Human Proteome Organization (HPO) 2013 Science and Technology Award. Hunt was selected for her contributions to the development and commercialization of a new approach to targeted proteomics, multiple reaction monitoring (MRM)-triggered tandem mass spectrometry (MS). More...
Camag

Fully automated Dried Blood Spot (DBS) Extraction System for MS
On-card IS application module for extraction efficiencies and matrix effect correction. Wash station for minimized carry-over effects.
Learn more.
Markes International Expands Operations Into Germany
Markes International (Llantristant, UK) has opened a new Technical Centre in Neu-Isenburg (Frankfurt, Germany). The centre features a laboratory for customer demonstrations, in addition to a conference room for seminars and customer training. The company is planning an inaugural seminar and workshop on the 23rd of October to mark its official opening. More...
Wyatt

SEC-MALS Detector
Based on Wyatt Technology's legacy of multi-angle light scattering (MALS) detectors, the DAWN HELEOS-II is the MALS detector with the greatest sensitivity for absolute molecular weight and size determinations of polymers and biopolymers in solution. The DAWN may be connected in series to any chromatographic system in order to determine absolute molar masses without the use of reference standards or column calibration.
Learn more.
Current features
High-Resolution Mass Spectrometry: An Ideal Premier Analytical Tool for Drug Metabolism Studies
In this instalment of MS – The Practical Art, a way of utilizing HR-MS systems to characterize the structures of metabolites is introduced. This results in a general workflow for metabolism studies for drug discovery and development. More...
CHROMacademy

5 Years Free Access to CHROMacademy
To show our commitment to learning, we have decided to offer all university students and staff free access to CHROMacademy. You are the future leaders and innovators of the scientific community, and by offering free access to CHROMacademy we hope to help you realize your potential. This has been made possible by Agilent Technologies- the world's premiere measurement company.
Learn more.
Pattern Recognition
Incognito thinks on how our analytical lives could be improved through the use of pattern recognition. What exciting opportunities in terms of problem-solving and data visualization have yet to be addressed? More...
Multimedia
Get More from Your Analytical Systems — Improve Utilization, Reduce Operating Costs and Focus Future Capital Purchases to Improve Efficiency
The CHROMacademy Essential Guide Webcast: Developing Better HPLC (MS) Methods
Editors' Series: Optimizing Your Extraction by Removing Uncertainty
Need LC Troubleshooting Help?

CHROMacademy has developed the HPLC Troubleshooter with busy chromatographers in mind. Sponsored by Thermo Scientific, in 3 simple steps you will overcome your instrument, separation and quantitation issues. It's completely free - so if you haven't tried our troubleshooter before you're in for a surprise!
Click Here
The Column

The Global E-zine for Separation Scientists
The global edition of The Column is delivered twice monthly with a screen-optimized format designed to improve readability. Covering topical issues, application-based articles, market reports, tips and tricks, opinion pieces and interviews, The Column is a great information resource helping readers achieve better day-to-day working practices.

Read more