You can now follow us on Twitter at Twitter.com/lc_gc and LinkedIn

Are you aware of CHROMacademy and the learning tools it offers?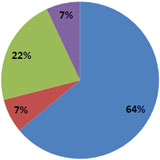 Yes, I would like to know more
64%
Yes, I am not interested
7%
No, I would like to know more
22%
No, I am not interested
7%
Contact Us
Click here to contact Kate Mosford, managing editor.
Click here to contact Mike Tessalone, group publisher.
Click here to contact Lindsay Jones, sales manager.
Click here to contact Liz Mclean, sales executive.
Click here to subscribe to The Column, LCGC Europe's and LCGC North America's digital publication.
29 August 2013
In this Issue
The Top 10 HPLC and UHPLC Column Myths: Part 2
In the second of a two-part feature from Ron Majors, the top 10 high performance liquid chromatography (HPLC) column myths are presented and attempts are made to demystify them by offering some evidence that they are untrue. This part will feature myths five to one. More...
CHROMacademy

5 Years Free Access to CHROMacademy
To show our commitment to learning, we have decided to offer all university students and staff free access to CHROMacademy. You are the future leaders and innovators of the scientific community, and by offering free access to CHROMacademy we hope to help you realize your potential. This has been made possible by Agilent Technologies- the world's premiere measurement company.
Learn more
Thermo Fisher Scientific Opens Pesticide Analysis Center of Excellence in UK
Thermo Fisher Scientific (California, USA) has established a new Pesticide Analysis Center of Excellence (COE) in Runcorn, UK. The center is a new resource available to government and industrial laboratories looking to improve methods for the monitoring and measurement of pesticides in the environment. More...
LC–MS–MS Yields Information About Imperial Inca Child Sacrifice Practices
Scientists from the University of Bradford (Bradford, UK) have utilized liquid chromatography–tandem mass spectrometry (LC–MS–MS) to gain further insight into the child sacrifice practices of the Inca people.1 Their findings indicate the use of alcohol and cocaine (COC) as a method of victim sedation. More...
Current features
Troubleshooting GC Selectivity, Resolution, and Baseline Issues
Understanding the chemistry behind GC separations can lead to faster problem identification and improved troubleshooting. In an excerpt taken from CHROMacademy, we take a look at some GC issues and provide a few troubleshooting tips. More...
Liquid Chromatographic Analysis of Chlorinated Herbicides in Water with On-line Enrichment
A rapid, automated liquid chromatography (LC) method with on-line enrichment was successfully developed for the analysis of eight chlorinated phenoxyacid herbicides in water. The method meets detection limits set by the United States Environmental Protection Agency for chlorinated herbicide quantitation. More...
Multimedia
Recent Developments in Protein Glycosylation Analysis by HPLC with Charged Aerosol and Mass Spectrometric Detection
Preparing Your Analytical Laboratory for a Regulatory Audit
Tips and Tricks on Screening and Confirmatory Methods for Residues and Contaminants in Foods
Need GC Troubleshooting Help?

CHROMacademy announces the launch of the interactive GC Troubleshooter, sponsored by Thermo Scientific.

Building on the success of our ground breaking HPLC Troubleshooter, we are excited to announce the GC version. In 3 simple steps you will overcome your instrument, separation and quantitation issues. It's completely free - so if you haven't tried our troubleshooter before you're in for a surprise!
Click Here
The Column

The Global E-zine for Separation Scientists
The global edition of The Column is delivered twice monthly with a screen-optimized format designed to improve readability. Covering topical issues, application-based articles, market reports, tips and tricks, opinion pieces and interviews, The Column is a great information resource helping readers achieve better day-to-day working practices.

Read more