You can now follow us on Twitter at Twitter.com/lc_gc and LinkedIn

Are you aware of CHROMacademy and the learning tools it offers?
Contact Us
Click here to contact Kate Mosford, managing editor.
Click here to contact Mike Tessalone, group publisher.
Click here to contact Lindsay Jones, sales manager.
Click here to subscribe to The Column, LCGC Europe's and LCGC North America's digital publication.
15 August 2013
In this Issue
HILIC: The Pros and Cons
Davy Guillarme discussed the possibilities and limitations of hydrophilic interaction liquid chromatography (HILIC) in a recent web seminar. Here, he answers some common questions about the method. More...
IDEX Health & Science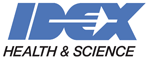 New Catalog! Lab Fluidics from IDEX Health & Science
Request the new catalog of Fluidic Products & Information for Laboratory Applications from IDEX Health & Science. Available this fall, the new catalog features new Upchurch Scientific® tubing and fittings, Rheodyne® valves for chromatography, Ismatec® peristaltic lab pumps and much more. A new feature this year is a second-volume just for Equipment Manufacturers. Request the new catalog at
www.IDEX-HS.com or contact

[email protected]
Phenomenex CEO Elected to American Red Cross L.A. Region Board of Directors
Fasha (Farshad) Mahjoor, CEO of Phenomenex (California, USA), has been elected to the American Red Cross Los Angeles Region Board of Directors. The appointment follows the award of the Ellis Island Medal of Honor to Mahjoor earlier this year, for building a socially responsible international business and for his humanitarian efforts in the USA and worldwide. More...
Wyatt Technology

SEC-MALS Detector
Based on Wyatt Technology's family of multi-angle light scattering detectors, the new DAWN HELEOS-II boasts 18-angles of detection for the greatest sensitivity for absolute molecular weight and size determinations of polymers and biopolymers in solution. It may be connected in series to any chromatographic system in order to determine absolute molar masses without the use of reference standards or column calibration.
Learn more
Waters Acquires Proteomics Software Development Company
Waters Corporation (Massachusetts, USA) has acquired the UK-based company Nonlinear Dynamics Ltd (Newcastle upon Tyne, UK). The acquisition marks the goal of Waters to advance the rate of discovery in proteomics, metabolomics, and lipidomics. More...
CHROMacademy

CHROMacademy Live on the Web: Understanding Gas Chromatography
Live course starts Thursday September 5th. Bringing education and professional development courses in Analytical Chemistry - right to your desk. Each session will cover key topics in an interesting style and are delivered by experts in analytical chemistry, and the live tutor will allow time for questions and comments as well as providing polling questions to check the understanding of the group. You will be set tasks to complete between live sessions to help increase your understanding.
More Info
Current features
Gradient Elution, Part VI: Ghost Peaks
In this final instalment on gradient elution, John Dolan takes a look at ghost peaks. Ghost peaks can occur in gradients even when no sample is injected. Dolan looks at two examples from the "LC Troubleshooting" archives. More...
Continuous On-line Monitoring of Hazardous Air Pollutants by Thermal Desorption GC–FID
Growing concern over the harmful effect of air pollution on health means gas chromatography analysts are being asked to provide increasingly detailed information on hazardous pollutants present in urban air. This article demonstrates how a dedicated air sampling system with thermal desorption and gas chromatography–flame ionization detection (TD–GC–FID) allows more frequent sampling. More...
Multimedia
The CHROMacademy Essential Guide Webcast: The Analysis of Post-translational Modifications Using LC–MS–MS
Get More from Your Analytical Systems – Improve Utilization, Reduce Operating Costs and Focus Future Capital Purchases to Improve Efficiency
Tips and Tricks on Screening and Confirmatory Methods for Residues and Contaminants in Foods
Need LC Troubleshooting Help?

CHROMacademy has developed the HPLC Troubleshooter with busy chromatographers in mind. Sponsored by Thermo Scientific, in 3 simple steps you will overcome your instrument, separation and quantitation issues. It's completely free - so if you haven't tried our troubleshooter before you're in for a surprise!
Click Here
The Column

The Global E-zine for Separation Scientists
The global edition of The Column is delivered twice monthly with a screen-optimized format designed to improve readability. Covering topical issues, application-based articles, market reports, tips and tricks, opinion pieces and interviews, The Column is a great information resource helping readers achieve better day-to-day working practices.

Read more