You can now follow us on Twitter at Twitter.com/lc_gc and LinkedIn

Are you using HILIC more often now than you have previously?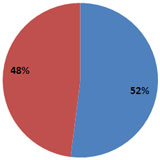 Yes, much more often
52%
No
48%
Contact Us
Click here to contact Kate Mosford, managing editor.
Click here to contact Mike Tessalone, group publisher.
Click here to contact Lindsay Jones, sales manager.
Click here to subscribe to The Column, LCGC Europe's and LCGC North America's digital publication.
19 July 2013
In this Issue
Ten Chromatography Troubleshooting Tips
In this extract taken from LCGC's CHROMacademy, 10 troubleshooting tips are presented. More...
Agilent Technologies

Succeed from Sample Prep to Separation
Agilent offers a complete portfolio of Fast LC columns—conventional HPLC or UHPLC and biocolumns in reversed phase, size exclusion, ion exchange and affinity—plus the sample prep chemistries you need to perfect your analysis. Bring your separations together with Agilent LC tools and resources at
www.agilent.com/chem/navigator.
Agilent Supports Art Conservation Workshop at Yale University
Agilent Technologies (California, USA) is supporting art conservation and preservation by supplying instrumentation and software to an art conservation workshop held at Yale University (Connecticut, USA). More...
Wyatt Technology

First Refractive Index Detector for UHPLC
(Santa Barbara, CA) Wyatt Technology announces the immediate availability of the Optilab UT-rEX (UHPLC refractometer with EXtended range), the first RI detector specifically designed for use with UHPLC systems using columns packed with small beads.
Learn more.
EMD Millipore Expands Bioavailability Enhancement Capabilities
EMD Millipore, the life science division of Merck KGaA (Darmstadt, Germany), has announced the opening of a new Research & Development Center for Formulation in Darmstadt, Germany. The center is made up of formulation, analytical, and synthetic laboratories with a customer-training center. More...
Beckman Coulter Life Sciences CE Business Integrated into AB Sciex
Danaher Corporation (Washington, USA) has announced the integration of its Beckman Coulter Life Sciences (California, USA) capillary electrophoresis (CE) business with its AB Sciex (Massachusetts, USA) chromatography business. The combination will result in a transition of CE technology, personnel, and resources from Beckman Coulter Life Sciences to AB Sciex. More...
Current features
Understanding Gradient HPLC
The underlying principles of gradient elution HPLC are very different from those of the isocratic mode. Appreciating the differences can lead to better methods. More...
Contributing Factors to Poor Resolution and Sample Recovery in UHPLC
Achieving a high quality sample separation is critical to the success of UHPLC analyses. Numerous practical factors must be considered to achieve this. This article looks at these factors. More...
Multimedia
Take Gas Analysis Mobile – Without Sacrificing Results
Simply Intelligent: Chromatography Data System Software Goes Mass Spec
Tips and Tricks on Screening and Confirmatory Methods for Residues and Contaminants in Foods
Need LC Troubleshooting Help?

CHROMacademy has developed the HPLC Troubleshooter with busy chromatographers in mind. Sponsored by Thermo Scientific, in 3 simple steps you will overcome your instrument, separation and quantitation issues. It's completely free - so if you haven't tried our troubleshooter before you're in for a surprise!
Click Here
The Column

The Global E-zine for Separation Scientists
The global edition of The Column is delivered twice monthly with a screen-optimized format designed to improve readability. Covering topical issues, application-based articles, market reports, tips and tricks, opinion pieces and interviews, The Column is a great information resource helping readers achieve better day-to-day working practices.

Read more