In this Issue
Gradient Elution: Solving Dwell-Volume Problems
Gradient methods can offer unique solutions to separation problems, but transferring a gradient method from the literature, between laboratories, or even within the same laboratory can be a challenging process. In this instalment of "LC Troubleshooting", John Dolan looks at some very practical problems related to gradient operation and discusses how the gradient dwell volume can impact results. More...
Trajan Scientific and Medical Acquires Chromatography and Liquid Handling Business Areas of SGE Analytical Science
Trajan Scientific and Medical (Victoria, Australia) has completed the acquisition of the Chromatography and Liquid Handling businesses of SGE Analytical Science (Ringwood, Victoria, Australia). More...
IDEX Health & Science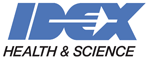 Biocompatible Tubing for UHPLC
Upchurch Scientific® PEEK™-Lined Stainless Steel (PLS) tubing withstands pressures to 17,400 psi (1,200 bar) for biocompatible UHPLC. Each pre-cut piece of 1/16" PLS tubing (pre-assembled with two VHP-325 fittings) is available with inner diameters from 25-254 µm.
Learn more!
Screening Drugs in Saliva
Scientists from Stockholm University in Sweden have developed a method for screening and determining drugs in human saliva using microextraction by packed sorbent (MEPS) and liquid chromatography tandem mass spectrometry (LC–MS–MS). More...
Wyatt

First Refractive Index Detector for UHPLC
(Santa Barbara, CA) Wyatt Technology announces the immediate availability of the Optilab UT-rEX (UHPLC refractometer with EXtended range), the first RI detector specifically designed for use with UHPLC systems using columns packed with small beads.
Learn more
NIBIRT

National Institute for Bioprocessing Research and Training (NIBRT)
Advanced biopharmaceutical training in the most cutting-edge analytical methods and techniques: NIBRT's state-of-the-art facility in Dublin, Ireland provides comprehensive, innovative training solutions for academia and industry.
Read more
Current features
Simple and Fast Quantification of Capsaicinoids in Hot Sauces Using Monolithic Silica Capillaries and LC–MS
This work describes the simple and fast quantification of capsaicinoids extracted from diverse hot sauces used to spice up sausages. The various capsaicinoids were separated on a robust reversed-phase monolithic silica capillary column and then directly transferred to a mass spectrometry system. The main analytes obtained via this method and contributing 90% of chili heat were capsaicin and dihydrocapsaicin. Both were analysed quantitatively in a set of 10 different sauces. The combined results are displayed in Scoville heat units (SHU) and compared to manufacturer's data. More...
RAFA

6th International Symposium on Recent Advances in Food Analysis (RAFA 2013)
RAFA is leading conference in advances in food analysis. The 2013 symposium will be organised again with the emphasis on advanced analytical & bioanalytical technologies and food analysis applications related to food authenticity, food security, food quality and safety and food integrity.
Read more
Tips & Tricks GPC/SEC: Analysis and Calibration for Low Molar Mass Macromolecules
Macromolecules can range from several hundred daltons to several million daltons in molar mass. There are many applications where only products with a low molecular weight are used. Gel permeation chromatography/size exclusion chromatography (GPC/SEC) analysis can be easily optimized to yield improved results when analysing oligomers and low molar mass macromolecules. Column selection and system calibration are key to successful characterization. New detection techniques also allow an additional insight. More...
Multimedia
Editors' Series: A Generic HPLC–UV Platform Method for Cleaning Verification
Editors' Series: Using SFC as the First Choice for Chromatographic Separations
Simply Intelligent: Chromatography Data System Software Goes Mass Spec