You can now follow us on Twitter at Twitter.com/lc_gc and LinkedIn

How often do you come across a method development problem that proves difficult to solve?
Contact Us
Click here to contact Kate Mosford, managing editor.
Click here to contact Mike Tessalone, group publisher.
Click here to contact Valeria Curzio, sales manager.
Click here to contact Lindsay Jones, senior sales executive.
Click here to subscribe to The Column, LCGC Europe's and LCGC North America's digital publication.
15 March 2013
In this Issue
Identifying "Known Unknowns" in Commercial Products by MS
A systematic approach for thee identification of nontargeted species using nominal and accurate mass data searching both mass spectral and "spectra-less" databases is described. More...
GC–MS Detects Stress Levels
Breath may be an indicator of stress levels according to a study published in the Journal of Breath Research.1The breath samples of 22 individuals were analysed by performing thermal desporption–gas chromatography–mass spectrometry (TD–GC–MS) to pinpoint six stress sensitive compounds. More...
Waters Opens Solution Centre in Singapore
Waters Corporation (Massachusetts, USA) has announced the opening of a Solution Centre based within the Singapore Science Park II (Singapore). The company aims to further strengthen their support of the developing biomedical sector in the region. More...
Current features
Troubleshooting GC Gas Supply, Sample Preparation and Inlets
An excerpt from LCGC's e-learning tutorial on GC troubleshooting and maintenance at CHROMacademy.com. More...
Simultaneous Qualitative and Quantitative Proteomics Using Tandem Mass Spectrometry
Quantitative proteomics aims to provide large-scale qualitative and quantitative data about every protein in a biological sample. However, drawbacks associated with current techniques can make it difficult to generate the data required. Research scientists have recently developed a new approach that allows highly multiplexed high-resolution MRM quantitation of most of the detectable proteins in a sample in a single analysis. More...
Multimedia
Validation of an Automated, Qualitative Pesticide Screening Solution according to EU SANCO/12495/2011 AQC Guidelines
Ion Exchange Mechanisms in SPE: The Ultimate in Selectivity
Application Protocol for EPA Method 539
Need GC Troubleshooting Help?

CHROMacademy announces the launch of the interactive GC Troubleshooter, sponsored by Thermo Scientific

Building on the success of our ground breaking HPLC Troubleshooter, we are excited to announce the GC version. In 3 simple steps you will overcome your instrument, separation and quantitation issues. It's completely free - so if you haven't tried our troubleshooter before you're in for a surprise!

http://bit.ly/GC_troubleshooting
Product Profiles
Agilent Technologies

Succeed from Sample Prep to Preparation
Agilent offers a complete portfolio of Fast LC columns—conventional HPLC or UHPLC and biocolumns in reversed phase, size exclusion, ion exchange and affinity—plus the sample prep chemistries you need to perfect your analysis. Bring your separations together with Agilent LC tools and resources at,
www.agilent.com/chem/navigator.
NIBRT

National Institute for Bioprocessing Research and Training (NIBRT)
Advanced biopharmaceutical training in the most cutting-edge analytical methods and techniques: NIBRT's state-of-the-art facility in Dublin, Ireland provides comprehensive, innovative training solutions for academia and industry.
Read more
Porvair Sciences
Reduce the Cost of Your Protein Precipitation Sample Preparation
Comprising four p3 protein precipitation plates and four 1ml deep well collection plates (colour coded in red or blue polypropylene) the Combipack from Porvair Sciences provides all the elements you require to undertake protein precipitation separations at a very affordable price.
Read more
Waters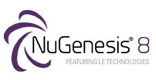 Waters NuGenesis® 8 is a comprehensive data management and workflow solution that combines data repository, E-lab notebook, sample management, laboratories inventories, and e-record lifecycle management to provide easily accessible data.
Read more
Wyatt Technology

First Refractive Index Detector for UHPLC
Wyatt Technology announces the immediate availability of the Optilab UT-rEX (UHPLC refractometer with EXtended range), the first RI detector specifically designed for use with UHPLC systems using columns packed with small beads.
Read more
Thermo Fisher

Essential to the development of biotherapeutics is ability to quickly and accurately assess product quality—including factors such as sequence integrity, glycan heterogeneity, and purity—at each step. Thermo Scientific workflows for intact-protein analysis enable these assessments early in the development process without the effort of complete characterization and allowing you to make better, faster decisions about how to proceed with your biotherapeutic development.
Learn More