You can now follow us on Twitter at Twitter.com/lc_gc and LinkedIn

How useful did you find Pittcon 2013?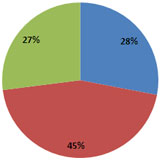 Very Useful
28%
Quite useful
45%
Not useful
27%
Contact Us
Click here to contact Kate Mosford, managing editor.
Click here to contact Mike Tessalone, group publisher.
Click here to contact Valeria Curzio, sales manager.
Click here to contact Lindsay Jones, senior sales executive.
Click here to subscribe to The Column, LCGC Europe's and LCGC North America's digital publication.
29 April 2013
In this Issue
The Evolution of Size Exclusion Chromatography
Size exclusion chromatography (SEC) is a well-established high performance liquid chromatography (HPLC) method for separating macromolecules according to their hydrodynamic volume. When SEC was first recognized 60 years ago by biochemists it was an instant success, and was mainly used for analysing complex biological samples, desalting biological solutions and for preparative separations of biopolymers. With time, SEC evolved to become the mainstay of practically all laboratories concerned with macromolecular characterization. In this instalment of the History of Chromatography column, Howard Barth traces the early development of SEC. More...
Environmental Biodegradation of Ionic Liquds
Researchers from Queen's University of Belfast (Belfast, Northern Ireland, UK) have shown that marine bacteria are able to efficiently biodegrade ionic liquids (ILs). The biodegradation of 1-ethyl- and 1-butyl-3-methylimidazolium ILs by three strains — B. snaguinis, R. erythropolis and K. palustris — was demonstrated by using high performance liquid chromatography (HPLC). More...
CHROMacademy

5 Years Free Access to CHROMacademy
To show our commitment to learning, we have decided to offer all university students and staff free access to CHROMacademy. You are the future leaders and innovators of the scientific community, and by offering free access to CHROMacademy we hope to help you realize your potential. This has been made possible by Agilent Technologies- the world's premiere measurement company.

Read More
Agilent Announces Establishment of Asia Glycomics Eduction Center
Agilent Technologies (California, USA) has announced the establishment of the Asia Glycomics Education Center in South Korea, building on the recent collaboration with Chungham National University (Daejon, South Korea) through the university's Graduate School of Analytical Science and Technology (GRAST). More...
Current features
Assay for Parts-Per-Million Levels of Azide in Drug Substances
This article describes a simple and practical assay for azide using chemical derivatization and high performance liquid chromatography. The method is shown to be suitable for the intended purpose on three example test materials. Potential issues for wider applications are discussed. More...
CHROMacademy – Upcoming webcast
Join CHROMacademy's Latest Webcast: Core Shell Particles - Present and Future
Tuesday April 30; 11:00am EDT/ 16:00 BST.
In this session, Dr Fabrice Gritti and Scott Fletcher highlight the benefits of core-shell particle technology and the reasons behind their surprisingly high efficiency

Register Here
Core–Shell Particles: How do they Work?
Fabrice Gritti of the Department of Chemistry at the University of Tennessee (Knoxville, Tennessee, USA) discusses results from his and Georges Guiochon's research on the kinetic mechanisms of chromatography columns packed with core–shell particles. More...
Multimedia
The CHROMacademy Essential Guide: Core–Shell Particles–Present and Future
Editors' Series: Faster Gas Chromatography in Practice
Tips and Tricks on Screening and Confirmatory Methods for Residues and Contaminants in Foods
Application Note
Thermo Fisher Scientific

HR/AM Targeted Peptide Quantitation on a Q Exactive MS: A Unique Combination of High Selectivity, Sensitivity and Throughput
The high resolution of 140,000 and high mass accuracy afforded high selectivity in target detection. The unique feature of multiplexed tSIM scan allowed sequential isolation of up to 10 targets within one scan cycle, greatly increasing throughput. Read More
Need LC Troubleshooting Help?

CHROMacademy has developed the HPLC Troubleshooter with busy chromatographers in mind. Sponsored by Thermo Scientific, in 3 simple steps you will overcome your instrument, separation and quantitation issues. It's completely free - so if you haven't tried our troubleshooter before you're in for a surprise!

http://bit.ly/LC_Troubleshooting
The Column

NOW global
The global edition of The Column is delivered twice monthly with a screen-optimized format designed to improve readability. Covering topical issues, application-based articles, market reports, tips and tricks, opinion pieces and interviews, The Column is a great information resource helping readers achieve better day-to-day working practices.

Read more