In this Issue
Mass Spectrometry for Natural Products Research: Challenges, Pitfalls, and Opportunities
A common attitude in natural products research is that nuclear magnetic resonance (NMR) spectroscopy serves as a primary tool, whereas mass spectrometry (MS) is relegated to the task of providing the molecular formulas of pure compounds. Yet over the past several decades, we have witnessed astonishing growth in MS. Electrospray ionization has enabled the analysis of biological molecules previously deemed intractable, and instruments that offer astounding mass accuracy are becoming routinely available. Nonetheless, as applied to natural products research, MS is still fraught with potential pitfalls. Is MS up to the challenge? More...
Avantor

J.T.Baker® High Purity Solvents and Reagents – ULTRA LC/MS, LC/MS and HPLC Solvents
The Avantor™ J.T.Baker® high purity solvents and reagents will give you the performance you need with minimal risk of contaminants that can limit accuracy and productivity and maximize the sensitivity and detecting power of your instrumentation.
Learn more
PerkinElmer Appoint Jon DiVincenzo as President, Environmental Health and Senior VP
PerkinElmer (Massachusetts, USA) has appointed Jon DiVincenzo as President, Environmental Health and Senior Vice President. DiVincenzo will take responsibility for the company's environmental health business, which focuses on ensuring safer food and a cleaner environment. More...
Kromasil

Kromasil 1.8 µm UHPLC columns
AkzoNobel introduces Kromasil UHPLC columns with 1.8 µm particles. With the highest efficiency of the line and maintained selectivity, these columns can be used seamlessly throughout analytical screening, discovery, and production.
Learn more
Agilent Technologies Target Oral Cancer with New Collaboration
Agilent Technologies (California, USA) is to collaborate with the University of Queensland Centre for Clinical Research (Brisbane, Australia) to further understanding of the genomic differences governing oral cancer. According to the National Center for Biotechnology Information, oral cancer is the sixth most prevalent cancer worldwide. More...
La-Pha-Pack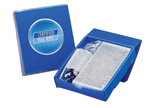 Assure your sample integrity
• HPLC and GC Certified Vial Kits
• Available as 9mm short thread vial, clear or amber
• Increased reproducibility
• Trouble-free operation

Learn more
Diagnosing Eye Disorders
Scientists from the Duke Medical Center (North Carolina, USA) and the Bascom Palmer Eye Institute at the University of Miami (Florida, USA) have performed liquid chromatography coupled to mass spectrometry (LC–MS) to identify a new diagnostic marker of Retinitis pigmentosa (RP) in patient urine samples.1 RP is a disease of the eye that causes retina degradation and can result in blindness. Often inherited, it has multiple contributing genetic mutations and there is no treatment available. More...
LCGC eBook
LCGC launches new e-book, Five Keys to Successful LC Methods
Download here
Current features
More Myths in Ultrahigh-Pressure Liquid Chromatography
In this instalment of Perspectives in Modern HPLC, Michael Dong describes more popular myths or half-truths in UHPLC and provides data that contradict or even repudiate some of these commonly held beliefs. More...
Weeding Out Unsafe Drivers: Automating THC Determination in Serum
A fully automated solution was developed for the determination of THC and its metabolites THC‑OH and THC-COOH in serum. Our results show the method to be equivalent to semi‑automated sample preparation, but with improvements in reproducibility and efficiency while also reducing sample and solvent volumes. More...
CHROMacademy

5 Years Free Access to CHROMacademy
To show our commitment to learning, we have decided to offer all university students and staff free access to CHROMacademy. You are the future leaders and innovators of the scientific community, and by offering free access to CHROMacademy we hope to help you realize your potential. This has been made possible by Agilent Technologies- the world's premiere measurement company.
Learn more.
Multimedia
Editors' Series: Fundamentals, Optimization and Practical Aspects of UHPLC: Series 3: Practical Aspects of UHPLC
Multi-Residue Pesticide Analysis in Herbal Products Using Accelerated Solvent Extraction with Triple Quadrupole GC–MS/MS – On Demand Webcast
Ion Exchange Mechanisms in SPE: The Ultimate in Selectivity – On Demand Webcast
Need GC Troubleshooting Help?

CHROMacademy announces the launch of the interactive GC Troubleshooter, sponsored by Thermo Scientific.
Building on the success of our ground breaking HPLC Troubleshooter, we are excited to announce the GC version. In 3 simple steps you will overcome your instrument, separation and quantitation issues. It's completely free - so if you haven't tried our troubleshooter before you're in for a surprise!
Click Here