You can now follow us on Twitter at Twitter.com/lc_gc and LinkedIn

Over a month, how much time do you spend on social media for scientific research?
Contact Us
Click here to contact Kate Mosford, managing editor.
Click here to contact Mike Tessalone, group publisher.
Click here to contact Lindsay Jones, sales executive.
Click here to subscribe to The Column, LCGC Europe's and LCGC North America's digital publication.
4 January 2013
In this Issue
Food and Beverage Technology Forum
Food and beverage analysis is a major concern in analytical chemistry. LCGC invited three experts from industry: Deepali Mohindra from Thermo Scientific, Paul Zavitsanos from Agilent and Norbert Helle, TeLA GmbH, to participate in this forum to discuss the hottest issues in this area of research. More...
Thermo Fisher Scientific Acquires picoSpin
Thermo Fisher Scientific (Massachusetts, USA) has acquired picoSpin (Colorado, USA), the company credited with the creation of the world's first miniature nuclear magnetic resonance (NMR) spectrometer. picoSpin first introduced the award-winning shoebox-sized NMR spectrometer in 2010. More...
Aromatic Amino Acids as Biomarkers of Gastric Cancer
Higher levels of aromatic amino acids may indicate early stage gastric cancer, according to a research group in China.1 Gastric cancer is difficult to diagnose at the onset of the disease because symptoms are normally found at a later stage. For patients requiring treatment, time is precious, and so efforts are in place to find new methods of diagnosing gastric cancer to remove the need for a display of physical symptoms. More...
Current features
Field-Flow Fractionation Coupled with ICP-MS for the Analysis of Engineered Nanoparticles in Environmental Samples
This article provides an overview of the capabilities of field-flow fractionation coupled with inductively coupled plasma–mass spectrometry and demonstrates that the technique shows a great deal of promise to separate, detect and quantitate nanoparticles in environmental matrices. More...
Determination of Histamine in Human Serum/Plasma by SPE and HILIC LC–MS–MS
Histamine is a low-molecular-weight amine that plays several critical physiological roles, most notably in mediating the inflammation response. Reversed-phase HPLC analysis of histamine has been a challenge in the past due to the high polarity and poor retention. This article looks at the potential solution that HILIC (hydrophilic interaction chromatography) offers. More...
Multimedia
Editors' Series: HILIC: A Critical Evaluation
Toxtyper – a novel LC–MSn based screening solution for clinical and routine toxicology
Turning up the Heat: Optimizing Temperature in Liquid Chromatography
CHROMacademy

CHROMacademy announces the launch of the interactive GC Troubleshooter, sponsored by Thermo Scientific.
Building on the success of our ground breaking HPLC Troubleshooter, we are excited to announce the GC version. In 3 simple steps you will overcome your instrument, separation and quantitation issues. Its completely free - so if you haven't tried our troubleshooter before you're in for a surprise!

http://bit.ly/GC_troubleshooting
Product Profiles
SCM-6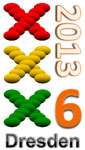 6TH International Symposium on the Separation and Characterization of Natural and Synthetic Macromolecules
Dresden, Germany - February 6 -8, 2013
SCM-6 is a platform for scientists from different backgrounds who share an interest in the separation and characterization of large molecules. Specialists from analytical chemistry, polymer science, life-science communities and related fields may interact, discuss subjects of mutual interest, and discover new synergies.
Learn more
The Column

NOW global
The global edition of The Column is delivered twice monthly with a screen-optimized format designed to improve readability. Covering topical issues, application-based articles, market reports, tips and tricks, opinion pieces and interviews, The Column is a great information resource helping readers achieve better day-to-day working practices.

Read more