In this Issue
Practical Chemometrics: Profiling Environmental Contaminants
Jan Christensen from the University of Copenhagen, Denmark, and LCGC Europe Editorial Advisory Board member, discusses his research in chemometrics and its practical applications in oil spill analysis. More...
Agilent Technologies

Quantify Organic Compounds in Water
Explore quick and cost-effective solutions using online-SPE to quantify trace levels of emerging organic contaminants in water. Learn about automated sample prep and enriching analytes before an LC/MS analysis through our application notes and videos.
Gain instant access to our complimentary Online-SPE information toolkit.
NanoSight Acquired by Malvern Instruments
Malvern Instruments (Malvern, UK) has acquired NanoSight (Amesbury, UK), a nanoparticle characterization company. The acquisition was completed on 27 September 2013. More...
Shimadzu

HS-20 headspace sampler for GC and GCMS
Environmental and pharmaceutical application, forensics, material and food production analyses – Shimadzu's HS-20 headspace sampler serves GC and GCMS applications particularly in testing and inspection organizations.
Read more.
Peak Scientific Receives A Royal Visit
Peak Scientific has recently opened an extension of their head office in Inchinnan, Scotland, named Cherry Tree House. The extension will accommodate the expansion of the company since it launched in 1997. The Princess Royal attended the event to officially open the new building. She toured the site and met with many of the workforce before the opening ceremony. More...
Featured Video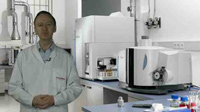 Evaluating Arsenic in ORBS using IC-ICP-MS
Reports on high arsenic levels in organic brown rice syrup have spurred the FDA to reevaluate legislation on arsenic limits in these products. This application note video describes an IC-ICP-MS speciation method to quantify total and elemental concentrations of six arsenic species, two of which are inorganic and toxic.
Learn more about speciation analysis and make sure your lab is ready to test.
Current features
Qualitative LC–MS Analysis of Pesticides Using Monolithic Silica Capillaries and Potential for Assay of Pesticides in Kidney
This article describes a simple and sensitive high performance liquid chromatography (HPLC) method with mass spectrometry (MS) and ultraviolet (UV) detection for the analysis of mixtures of up to 32 pesticides. More...
CHROMacademy

5 Years Free Access to CHROMacademy
To show our commitment to learning, we have decided to offer all university students and staff free access to CHROMacademy. You are the future leaders and innovators of the scientific community, and by offering free access to CHROMacademy we hope to help you realize your potential. This has been made possible by Agilent Technologies- the world's premiere measurement company.
Learn more.
HILIC: A Powerful Separation Mode for a Broad Range of Applications
The growing interest in HILIC can be demonstrated by the increasing number of publications and applications over the last 10 years. This article focuses on these applications, which range from food and nutrition, to cosmetics, pharmaceuticals, and bioanalysis. More...
LCGC eBook
LCGC launches new e-book, Five Keys to Successful LC Methods
Download here.
Multimedia
Ion Mobility – A New Beginning for Pesticide Residue Screening?
Editors' Series: Environmental Analysis Using Ion Chromatography Coupled with ICP-MS, with Examples from Climate Change Studies
Editors' Series: Fundamentals, Optimization and Practical Aspects of UHPLC: Series 1: Fundamentals, Optimization and Practical Aspects of UHPLC
Event Profile

Lab Innovations 2013
6 & 7 November 2013 - NEC, Birmingham
The UK's only event dedicated to discovering innovation at the heart of the laboratory industries.
Learn more.
Malvern Instruments
Characterizing Polysaccharide Structure Using SEC-MALS and Intrinsic Viscosity
Malvern Instruments
In this application note, molecular weight data from the Viscotek SEC-MALS 20 is combined with measurements of Rg and IV to study the structure of different polysaccharides including pullulan, dextran, hydroxypropyl cellulose (HPC), pectin and gum Arabic. The differences between conformation and Mark-Houwink plots are also studied. Read more.